Up and Coming Exhibitions - 2020


AppART Godalming
C a n c e l l e d

Sat 4th - Sun 19th April
Prior's Field School, Surrey
www.appartonline.co.uk

The indoor venue is the lofty and spacious theatre designed in keeping with the "Arts and Crafts" design of the original buildings by Vosey. Stage lighting is in place so the art will be well lit and there is also the benefit of natural light. The arrangement of the purpose designed display boards means that visitors will be provided with wide vistas as they enter. The combination of paintings, ceramics, photography, glasswork and sculptures is a characteristic of AppArt's Exhibitions and many commented that last year's was the best collection of work that AppArt had shown so far.

Outside the Gertrude Jekyll inspired garden is an ideal setting for the larger sculptures that will be carefully sited to ensure the best combination of the art with the attractive gardens.

Prior's Field School, Godlaming,
Surrey, GU7 2RH.


Leith Hill Place
C a n c e l l e d
Sat 2nd - Sun 31st May

Open Fridays, Saturdays and Sundays only.
11.00 - 17.00
This is an exciting new venue for the Wey Ceramics Society of which I am a member. We are presenting an exhibition "Evolution" in the beautifully proportioned Drawing Room on the first floor. This is an atmospheric house with panoramic views across the Surrey countryside. It was the childhood home of Ralph Vaughan Williams, who gave it to the National Trust in 1945. His grandparents, Josiah Wedgwood III and Caroline (nee Darwin) moved there in 1847. His great-uncle Charles Darwin conducted experiments in the grounds.

For nearly 40 years Leith Hill Place had been tenanted as a school boarding house until the summer of 2013 when it was opened to the public for the first time since the 1960s. The house is in he early stages of restoration but is still well worth a visit for the views alone...and the ceramics exhibition!
Leith Hill Lane,
Dorking
RH5 6LY

Surrey Artists Open Studios


Rescheduled
19th September - 4th October
Thursdays to Sundays 11am to 5pm

Due to Covid-19, the annual Surrey Artists Open Studios event planned for June has been re-scheduled and is now being held between Saturday 19th September and Sunday 4th October 2020.

Under a timed entry slot system, I will be exhibiting my work in the studio, shed and garage as well as the garden and meadow sculpture trail.

To keep all our visitors in a welcoming but safe and socially distanced environment please read the slot booking procedure and the safety protocol document.

This year I am delighted to be sharing the studio with Linda Walsh presenting her textile/mixed media art and who loves making pieces where she combines two of her favourite things ... stitching and photography!

The booking system is now open so please email terri@terrismart.co.uk or text/call 07904 204570 to book a slot

Cherry Cottage,
Back Lane,
East Clandon,
Surrey,
GU4 7SA
Old Forge, Shere, Surrey

Fri 24th - Sun 26th July
Open 09.30am - 5pm
Postponed. Date to be advised.
A Wey Ceramics pop-up exhibition in this recently and sensitively restored Old Forge on the High Street in Shere.
The Old Forge,
Middle Street,
Shere, Guildford,
Surrey
GU5 9HF

RHS Wisley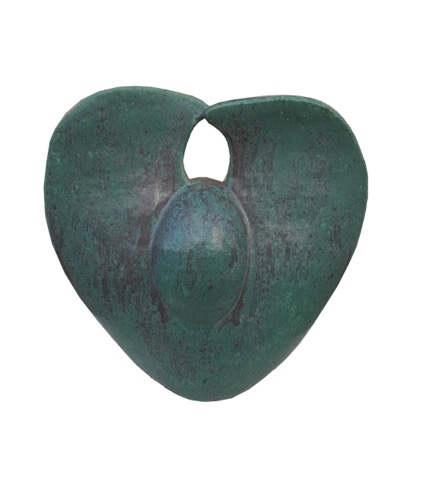 with Surrey Sculpture Society
C a n c e l l e d
Sat 15th Aug - Sun 20 Sept

Mon–Sat, 10am–5pm
Sun 10.30am–5pm
I will be exhibiting again this year in Surrey Sculpture Society's annual sculpture trail of contemporary and traditional art.

Find your favourite from around 60 inspirational sculptures by some of the South East's finest, established and emerging artists.
All sculptures are available to buy. Normal garden admission applies.
RHS Garden Wisley
Wisley, near Woking
Surrey
GU23 6QB

Tel: 0845 260 9000
Savill Garden, Windsor
with Surrey Sculpture Society

Going ahead as planned
Wed 23rd September - Tuesday 3rd November
9.30am to 6pm daily
I will be exhibiting with the Surrey Sculpture Society in the Savill Garden, part of Windsor Great Park. Since its creation in the 1930s, the 35-acre Savill Garden has been an inspiration for all. This natural haven of beautifully designed gardens and woodland can be enjoyed by everyone, from dedicated horticulturists to those who just want to spend a relaxing day out with family or friends.
Wick Lane,
Windsor,
TW20 0UJ

Recent Exhibitions

© Terri Smart 1998 - 2021. All Rights Reserved
All pieces and images displayed on this web site are the property of Terri Smart and her business, Clandon Pottery.
None of these copyrighted items or images may be reproduced, distributed, transmitted or otherwise used without the prior written permission of Terri Smart.